A couple weeks ago not long after Seattle locked the gate to Lincoln Park, I walked around the park. Between the locked parking lot and the misty grey day there were few folks hanging out.
There on the bluff I looked over Puget Sound and spotted the Alki Lighthouse in the misty distance.
Alki Point the southern entrance to Elliott Bay that Seattle is perched upon has long had a light on it.  Here is a bit of that history per the web page Lighthouse Friends.
A 320-acre parcel of land that included the point was sold to Hans Martin Hanson and his brother-in-law Knud Olson in 1868 for $450. At night, the pair would reportedly light a lamp on the point as a service to mariners. In 1887, the Lighthouse Service finally recognized the need for an official light and placed a lens-lantern atop a wooden post at the point.

The present concrete fog signal building with attached, thirty-seven-foot octagonal tower was completed on April 29, 1913, and the station was activated a few weeks later on June 1.
Below is a current aerial photo from the link above.  The Coast Guard still occupies the two homes you see. Here is the chain of that occupancy from Lighthouse Friends.
After automation, one of the two keeper's dwellings at Alki Point was remodeled to house the Commander of the Thirteenth Coast Guard District, while the second dwelling housed a resident keeper. The Commander later moved to Medina, and the two dwellings became home to senior Coast Guard officers. Two years after the fog signal at Alki Point was discontinued in 2005, the Commander moved back to the station with its scenic location on Puget Sound.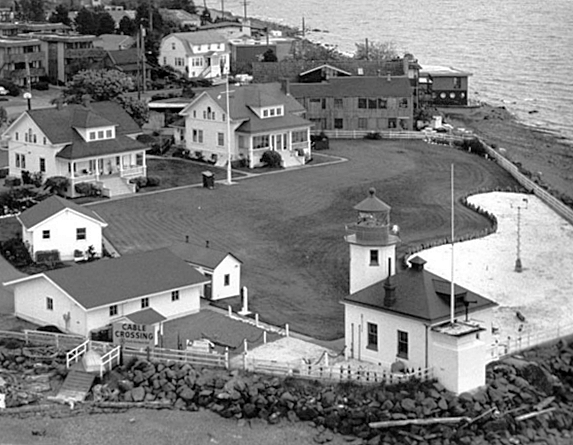 History is everywhere.  Who would have thought a misty day walk would lead me to research our local 100 plus year old lighthouse.  Serendipity was at her job again.